August 2010
Our 30 Make-A-Wish Winners:
Do contact us at

admin@lovebonito.com

if you see your name on this list!! :D

We're so excited, hear from you girls soon!
We've also sent the discount code for the first 500 customers who'd signed up with us on

www.lovebonito.com

!
Do check your emails! :)
---
*picture credit to Jiayi Chee*
June/July 2010
The Straits Times URBAN
25th June, Friday




THANK YOU ALL FOR YOUR SUPPORT!
<3

--

May/June 2010
CLICK TO ENLARGE
--

Feb-April 2010
December 2009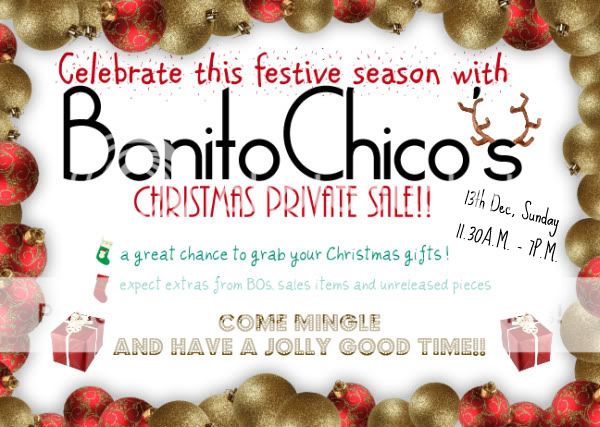 Thanks for joining us at BonitoChico's Christmas Private Sale!!
We had a great time mingling with you girls, and this will definitely not be our last ;)

The turnout was overwhelming and we take this chance to apologize for those who had to wait due to the space constrain.
We're very encouraged by the support you girls have rendered thus far & are thankful for the great feedback!

For those who didn't manage to join us, we will work towards improving and catering for more of such opportunites in the near future :)



From L-R: Rach, model Beatrice, Vel, Viola

All watches and jewelry accessorized by Calvin Klein Watches & Jewelry

We take this chance to wish all our customers a very Merry Christmas,

and a Happy New Year :)
--
October 2009



BonitoChico is proud to be awarded the title of Best Blog Shop '09 by the Nuffnang Asia-Pacific Blog Awards!

A heartfelt thanks those who had nominated us, and to those who voted for us.
It's an honour to have won an award and this would not have happen without your support and votes!

This is definitely a great encouragement for us to work even harder for you on BonitoChico

.


Thank you for your continuous support for us!





--




August 2009

The Straits Times National Day Special



44 Reasons to Love Singapore




--

JULY 2009
A BIG THANK YOU to those who joined us in our 3rd Birthday Celebration!
It was great meeting all of you and getting to know you girls better.
We look forward to the next one!
Much Love,
Vel, Rach & Viola



xx